Book: From Dust (A Standalone Novel)
Author: Freya Barker
Genre: Dark / Suspense Romance
Cover Design: RE&D, Margreet Asselbergs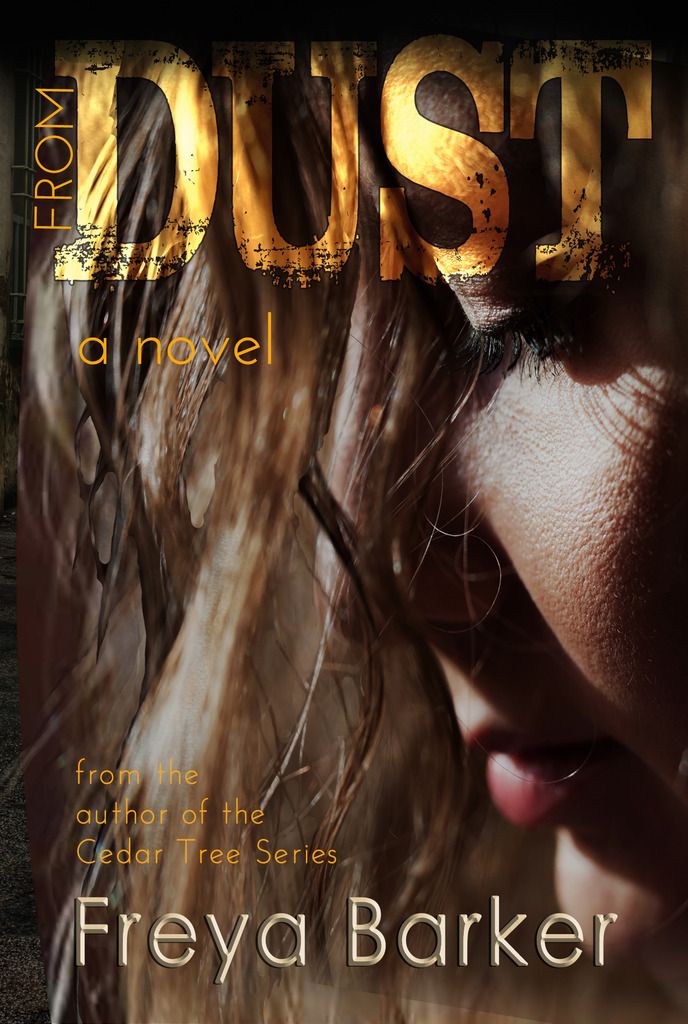 Pain punished her.

The bottle numbed her.

Guilt kept her trapped.

In the dark alley of a pub, the words "Please don't" take hold of her heart and break the silence she seeks. Thinking herself beyond redemption, she tentatively grabs on to the slim thread of hope that unfolds inside of her.

Holding her secrets close, she can't resist the comforting draw coming from The Skipper. The unconditional friendships it offers, the protective roof it provides, and the spark that its owner ignites in her—melting the frost off her heart, and slowly stripping away her resistance.

His life flows from one crisis to the next. Under the pressure of competition crowding him out of his family's pub and the need to protect his children from the ruins of a bad marriage, he barely breathes. That is until a mane of strawberry-blonde hair and a set of big, pale blue eyes, shake him up.

He never expected the shadow of a woman he finds on the floor of his washroom to bring him the air―the balance and the light he's been missing.


When we meet Syd she is at her absolute very worst. She is living on the streets, sleeping in a shack, searching for food and essentials. Scared and thankful when she is caught and approached in the dumpster. After being isolated fo so long she is not sure how to react and certainly not feeling deserving.
From that one interaction we slowly see Syd transform. She slowly opens her heart and starts to feel again. Not only the wonderful new things she is experiencing but also the pain of the horrible tradegy that has brought her to this point in her life. She was so shamed by the people that were supposed to love her that when people start to show an interst she shys away again. But watching her find herself is heartbreaking and beautiful at the same time.
Syd is not the only character who transforms in this book. Gunner is this gruff and cranky man who is struggling to do right by his children while running the 'Skipper' his family resturant. His love and affection is evident when he is with his children. His personal life is not so happy but over time as he spends more time with Syd that changes. His love and understanding as Syd shares her secrets is astounding. Truly a wonderful transition that everyone notices.
Freya's writing just keeps getting better the more she writes. I love how her characters find their way into my heart. I find myself lost in her books, just flipping pages and ignoring life around me. If you haven't yet given her a try, I highly recommend her writing
** Advanced copy provided in exchange for an honest review**



"Jesus, Gunnar. Close the door will you? You're gonna have Syd here quit on her first day!" Viv yells as she slams the stall door closed. Some mumbling and shuffling of feet follows and I'm glad to hear the washroom door slam shut as well.
Freya Barker craved reading about 'real' people, those who are perhaps less than perfect, but just as deserving of romance, hot monkey sex and some thrills and chills in their lives – So she decided to write about them. Always creative, from an early age on she danced and sang, doodled, created, cooked, baked, quilted and crafted. Her latest creative outlets were influenced by an ever-present love for reading. First through blogging, then cover art and design, and finally writing. Born and raised in the Netherlands, she packed her two toddlers, and eight suitcases filled with toys to move to Canada. No stranger to new beginnings, she thrives on them. With the kids grown and out in the world, Freya is at the 'prime' of her life. The body might be a bit ramshackle, but the spirit is high and as adventurous as ever. Something you may see reflected here and there in some of her heroines.... none of who will likely be wilting flowers.
Other Books by this Author
All Cedar Tree novels available with KINDLE UNLIMITED!
"CLEAN LINES" (Cedar Tree #4)
"AGAINST ME" (Cedar Tree #3)
"HUNDRED TO ONE" (Cedar Tree #2)
"SLIM TO NONE" (Cedar Tree #1)