Book: Upper Hand
Series: Cedar Tree #5
Author: Freya Barker
Cover Designed: Margreet Asselbergs
Model: Alfie Gordillo
Photographer: Reggie Deanching of R+M Photography
I am freaking out right now!!!! I am on my way to Cedar Tree to meet up with Clint and Beth. We are going to meet at Arlene's diner. I wonder what Seb has on for a special today and they better have some of Emma's peach pie. Wonder who else I might get to see while I am there….
I have arrived and this diner is just too damn cute for words. Clint and crew did a great job in fixing it back up since the fire. Early as usual so I am enjoying some coffee while I wait and I can't believe how hopping this place is. Seb, Arlene and their crew must just go home and drop at the end of the day from exhaustion.
Oh….here they come, I can see them getting out of the truck, and they have Max with them too. Now I am really nervous.
Clint and Beth, it is so wonderful to finally meet you, I am so thankful you agreed to meet with me. I sure hope that you have had some time to relax after all that craziness that you have just experienced. He Max it is very nice to meet you too little man.
Questions
1)
Clint, when you can to Cedar Tree to work on the diner, did you ever think you would end up living here and part of such a strong friend base?
Clint
- Not a clue. As you may have noticed, I suffer from foot-in-mouth disease, or so I'm told, something that doesn't necessarily enamor me to the ladies. As for guy friends, I never made it a habit to go look. Used to be that my brother was my best friend, but let's just say that got killed off in a hurry, after I found out he … well, he did what he did. Cedar Tree grew on me. After working on the diner and getting to know everyone there, and after that Caleb's barn house and Naomi's clinic it seemed to be a good place to try and settle. And a certain waitress with gypsy looks may have been a bit of added motivation.
2)
Beth, how many times have you questioned yourself on how you could stay at Dylan's and not know that there was anything going on? I hope you know that you can't hold yourself accountable for not seeing things for what they were.
Beth
- Only a million times. It's not that I didn't know something was bothering him, but since he got married a few years back, I tried my best not to interfere in his life too much. That had been a steep learning curve to start with. But there is no room for a mother in her son's new marriage and since I never really took to his wife, I tried not to make things more tense than they already were. I could kick myself though.
3)
Beth, how have you adjusted to working with Clint? Do you miss your work at the diner?
Beth
- Love it. I love looking up from my desk and finding his dimples on the other side of it. I've never felt so treasured and working together feels like we're building something together. Something I've never known. As for the diner, yes, I miss working with cranky-assed Arlene every day and Seb's cooking sure is a loss, but we manage to sneak in there on a regular basis and get a healthy dose of Seb's food and Arlene's attitude. Enough to tide me over again.
4)
Do you ever wish that you had given Clint more of a chance earlier on? Do you think your relationship would be the same if you had?
Beth
- Not sure why I was so resistant to him. Oh, at first he was an absolute ass, every word from his mouth an insult to women in general. That's always rubbed me the wrong way: guys who think they're piling on the charm, but instead show how narrow their thinking really is. Took me a while to get over that and start seeing the soft-hearted man underneath. I think though, our road needed to be what it was. When you think about it, circumstances allowed me to see that part of him, the part that embraced my grandson and kept me feeling safe despite the uncertainty we had to deal with. It forced us both to face and fix some things about ourselves that made us the good fit we've become.
5)
Clint you melted my heart with making Max the tree house and the sled. How did he react when you showed him? I am sure that it is rewarding to see him playing/using them.
Clint
- Oh I don't know, any guy knows a kid needs those two things in his life. The tree house was more something I think I would've done for a child of my own. Never had that chance, so when Max came along I took it. Boy needs a tree house—it's as simple as that. I don't know which he loves more: the house or the sled. We couldn't get him off that sled for hours. Speed-monkey that little guy. No fucking fear. I had to stop Beth from making the poor tyke wear a helmet. For Chrissake, a helmet on a sled—that was a good tussle that ended me with some fire in the bedroom. The house though? That's his refuge. He spends hours in that thing, toting all his favorite toys and books up there. Hard to get him to come in for dinner.
6)
Clint from day one you have been wonderful with Max aside from a little learning what to expect. It appears that you guys have bonded well. Are you still Big Guy or have you graduated to Gramps?
Clint
- He mimics Beth mostly, so when she calls me Big Guy, he follows suit. The rest of the time he calls me Grandy instead of Gramps. Goes better with Grammy I guess, which is what he calls Beth.
7)
Beth, I think it is wonderful that you two have kept Max while Dylan is off getting ready for his new job with the FBI, do they get to connect often?
Beth
- There are times my son is away for weeks at a time and we don't know where he is. Not like he can always tell us, but when he's around, he and Max are joined at the hip. Clint sometimes pouts when that happens, makes me laugh. I think Max may well be his best friend. Imagine that. But with Max so young still, time means little and he's easily distracted. I figure that will change when he hits school age, but time will tell.
8)
Beth with Dylan working with the FBI now, does that scare you all over again?
Beth
- It does and it doesn't. Of course hanging around with the GFI boys all these years, I know how dangerous it can get, but I feel better now that he's better trained . And of course I have faith in my son.
9)
Clint it is wonderful that you and Jed have been able to reconnect, is that relationship still going well?
Clint
- He's my brother, always was my best friend before he fucked up royally, so when we finally cleared the air after all those years wasted, there was no looking back. We work together too, even though he's got the shop started up in Durango and we don't live in each other's pockets, we talk a lot and see each other when we can. Of course once introduced to Cedar Tree and our growing community there, he can't stay away for very long anyway.
10)
Beth, what kind of exciting thing has been happening around Cedar Tree in the last few months?
Beth
- Oh! I have a feeling there's some more excitement heading our way. Mal asked to use my house as a safe house for this sweet woman. A little shy and she's been through the wringer from the sounds of it, but she seems like a trooper. Mal looked to be quite taken with her too. Well…as far as I could tell. As you know Mal is a bit difficult to read at the best of time. He's got that aloof expression that's supposed to make you think there's nothing but ice there, but truthfully? The man is seething underneath, I can tell.
Yeah, I'm thinking those two will make for an interesting few months here in Cedar Tree.
Well, I think I have taken up enough of your time for today. Thank you so much for making me feel right at home today it has been a wonderful experience. I hope for all of you here in Cedar Tree have some time to relax and enjoy the lives that you have found together with each other and your strong family of friend.
It would be a pleasure to come back and visit with you all again some time.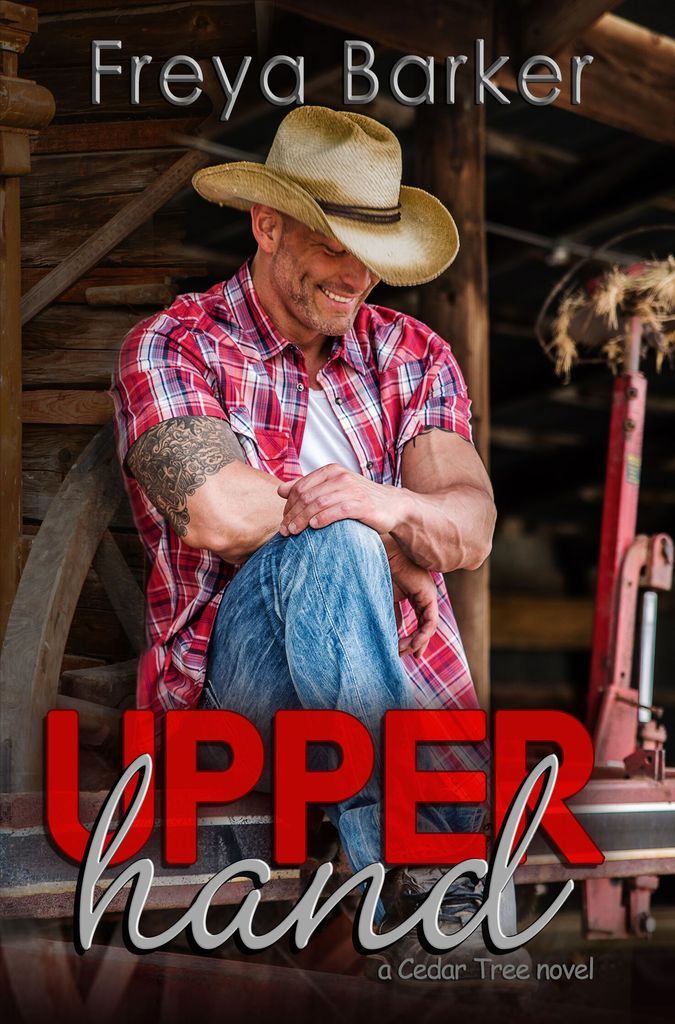 More often than not, Clint Mason has his foot firmly wedged in his mouth, which tends to get him in plenty of hot water with the ladies. Although his laid back good ole' Southern charm does not fly far with the female population of Cedar Tree, the big burly contractor hides his dark side well.

The only one Beth Franklin allows herself to rely on is Beth, and so far that has served her well. Just when her son disappears after dropping his little guy off on her doorstep, her life seems to spiral out of control. For the first time ever, fearing for his safety, the fiercely independent waitress is forced to be on the receiving end of a helping hand. That's not easy for her, especially since the shovel-sized hand belongs to a man whose approach has run hot and cold the last year, leaving her feeling off balance. With a steady and commanding force, he exposes her softer side, while doing everything he can to keep her and those close to her safe.

**Due to some content of a sexually explicit nature, this book is recommended for a mature audience only.**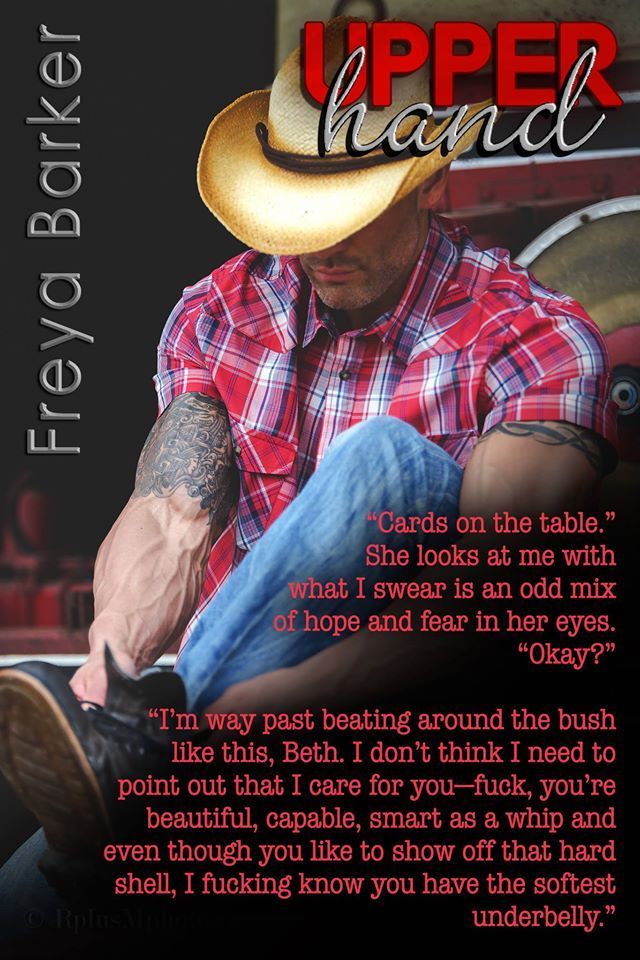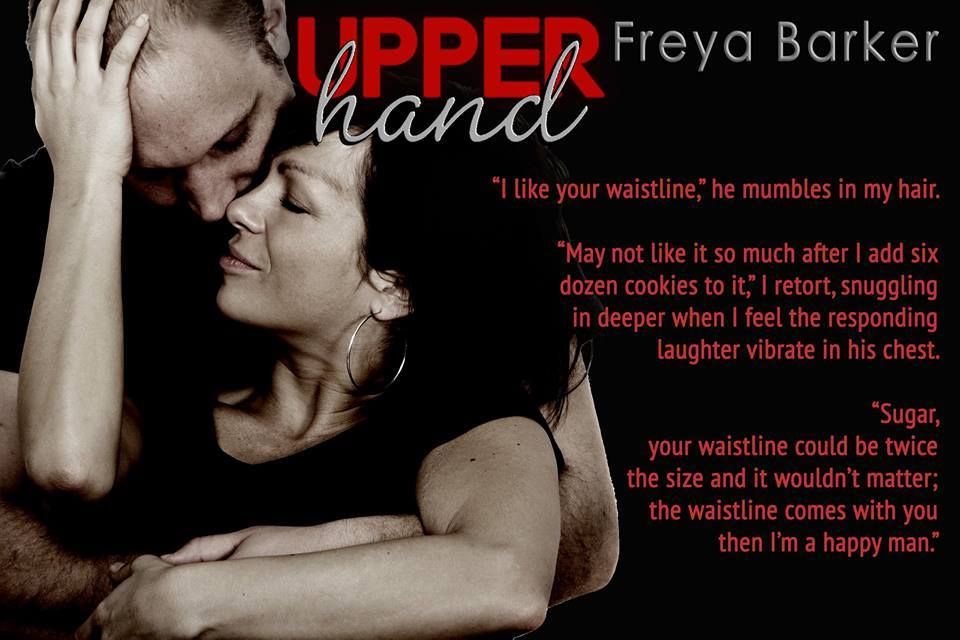 Freya Barker craved reading about 'real' people, those who are perhaps less than perfect, but just as deserving of romance, hot monkey sex and some thrills and chills in their lives – So she decided to write about them. Always creative, from an early age on she danced and sang, doodled, created, cooked, baked, quilted and crafted. Her latest creative outlets were influenced by an ever-present love for reading. First through blogging, then cover art and design, and finally writing. Born and raised in the Netherlands, she packed her two toddlers, and eight suitcases filled with toys to move to Canada. No stranger to new beginnings, she thrives on them. With the kids grown and out in the world, Freya is at the 'prime' of her life. The body might be a bit ramshackle, but the spirit is high and as adventurous as ever. Something you may see reflected here and there in some of her heroines.... none of who will likely be wilting flowers.
email: freyabarker.writes@gmail.com
Clean Lines (#4)
Upper Hand (#5)
Coming Next!
Also by Freya Barker:
A Standalone Dark Emotional Romance Novel