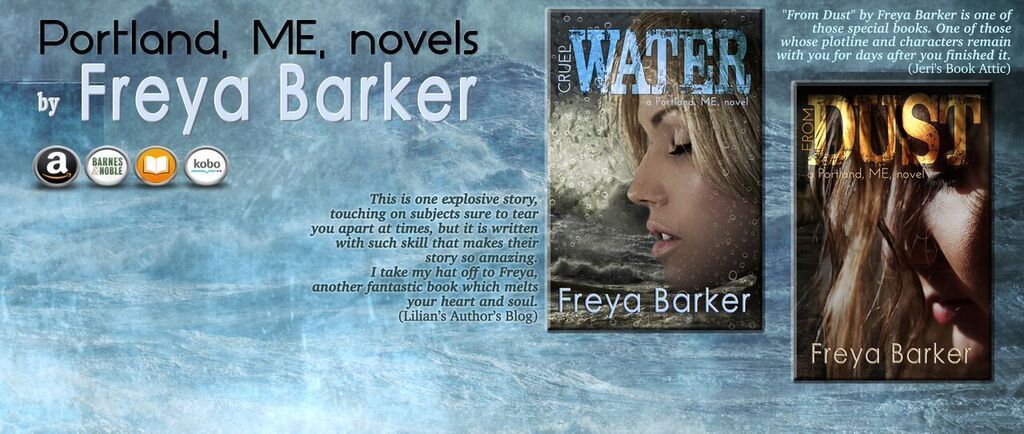 Book: Cruel Water
Series: a Prortland, ME, novel
Author: Freya Barker
Genre: Contemporary Romance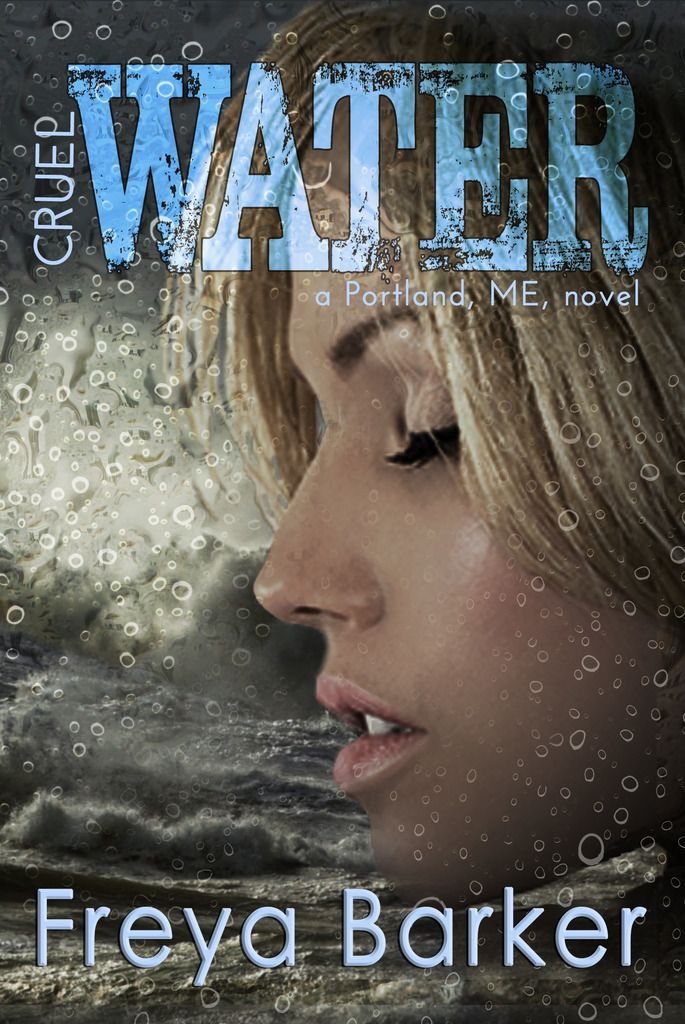 Innocence marked her...

Violation crippled her...

Love left her raw...

The life she carefully rebuilt is challenged when she is confronted with the sins from her past. The carefully applied protection is at once ripped away, leaving her exposed and vulnerable.

Her single night of indulgence with the silver-eyed stranger is only the beginning. He sees right to the heart of her and she is unable to ward off emotions that have been deeply buried. With the sting of betrayal still fresh in her soul, she's surprised to find herself opening up to the honest integrity of the sharp-eyed, rough-looking biker.

When he lost everyone who mattered, he was left without roots and learned to be content simply living in the moment. Completely unprepared for the feisty blonde bartender with old pain marring her clear-blue eyes, he questions his own rules of detachment, as she unwittingly finds a way under his skin.

Appearances deceive and when the masks fall away, revealing deep, dark secrets, there is nothing left but to hang onto each other and survive the storm.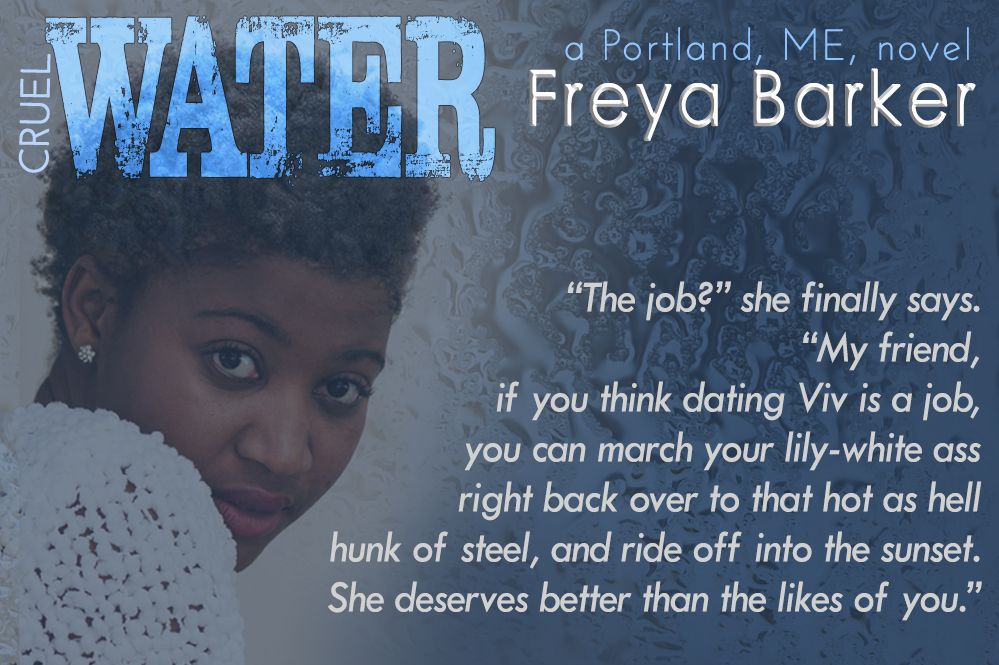 I should probably leave right now. I've had my beer and my dinner, I should just head home. I'm really not looking to get involved with—nor am I equipped to deal with—a woman who comes with obvious complications. Yet despite the thoughts in my head, my mouth has a different plan. "I'd like to take you out."
Something flickers in her eyes before she shakes her head and looks down at her hands. "Don't think that's a good idea."
"Actually—" I sit up straighter, suddenly determined to get her to agree. "You already said yes." I hold back a chuckle that wants out when I see her frown in confusion.
"I did? When was that?"
"You agreed to talk to me, so that's what we'll do: talk over dinner." I try for a disarming grin, afraid I'm botching it up and make myself look slightly deranged.
She presses her lips together, but amusement sparkles in those eyes. "Didn't know you were talking 'date', nor can I remember saying yes to anything." She left that door wide open, and I'll be damned if I don't go barging in.
Leaning closer I pin her with my eyes. "I fondly remember a time you were saying yes to everything."
When the meaning of my words register, her eyes darken and she sharply takes in a breath. "No fair," she whispers.
"I know," I whisper back, never losing eye contact.
A war wages on her face before she finally concedes on a sigh.
"Oh fine."
Despite the grudging response, the words are music to my ears. It's only later, when I finally do leave the pub to go home, that I remember my earlier resolve to steer clear of complications.
Well, so much for that.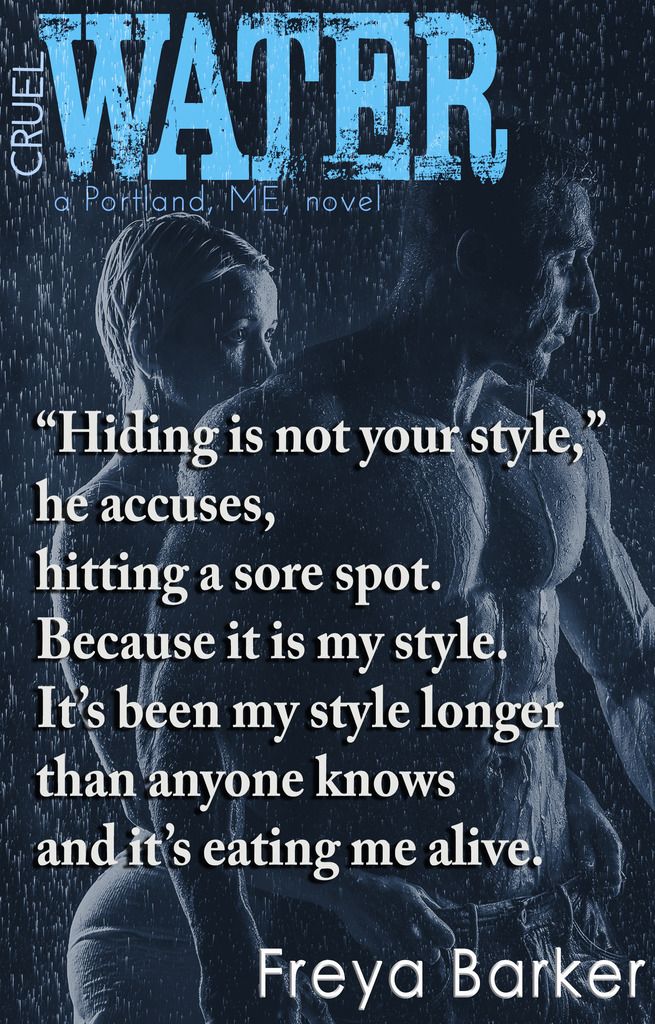 5 Stars
I am a huge Freya Barker fan so I was quick to pick this book up when given the chance. What I love most about the Portland, ME novels is that they are about the journey of taking your life back. We all have ups and downs but some downs are more than we can ever imagine. Viv is no exception to Freya's heroines and she is so damn strong....
We were first introduced to Viv in From Dust and I liked her from the very beginning but it was clear that life wasn't easy peasy for her. As Cruel Water starts to open up some of Viv's past, you soon come to realize she is one very special lady. To everyone at the Skipper Viv seems to be in total control but in reality when she is alone or has time to think she is far fom control.
As many old wounds are reopened for Viv and she starts to fall apart a little bit, she turns to her rock Pam for help. Slowly she comes to realize that she has more support than she ever thought possible. Letting Ike in has been super hard for her, but for some reason she is drawn to him and even with everything that has happened he makes her feel safe. When all her secrets are finally out of the bag, Ike doesn't run, no he does the complete opposite and holds her up and helps her find a new normal.
When Ike walked into the Skipper and saw her he knew he needed to get to know her. Drawn to her like bears to honey. The more he gets to know the more he wants to be there for her but... he worries he might not be the right man. Ike has some of his own demons to get past. Holding quilt can do that to a man.
Watching Viv and Ike open up and be there for each other, hold each other up is pretty emotional. These two beautiful people find a way to walk out of their past and only existing to making life what they want and living with gusto. Don't get me wrong it isn't perfect, but they have each other to help smooth out the wrinkles.
We have met some new people around the Skipper and I see some future possible heroines for more Portland, ME. Fingers crossed I am right. I strongly suggest you put this must read to your TBR!!!!
Thank you for another wonderful book that I know I will revisit Freya.
*** Advanced copy provided in exchange for an honest review. ***
Other Books In the series
CURRENTLY ON SALE!
"From Dust" (#1)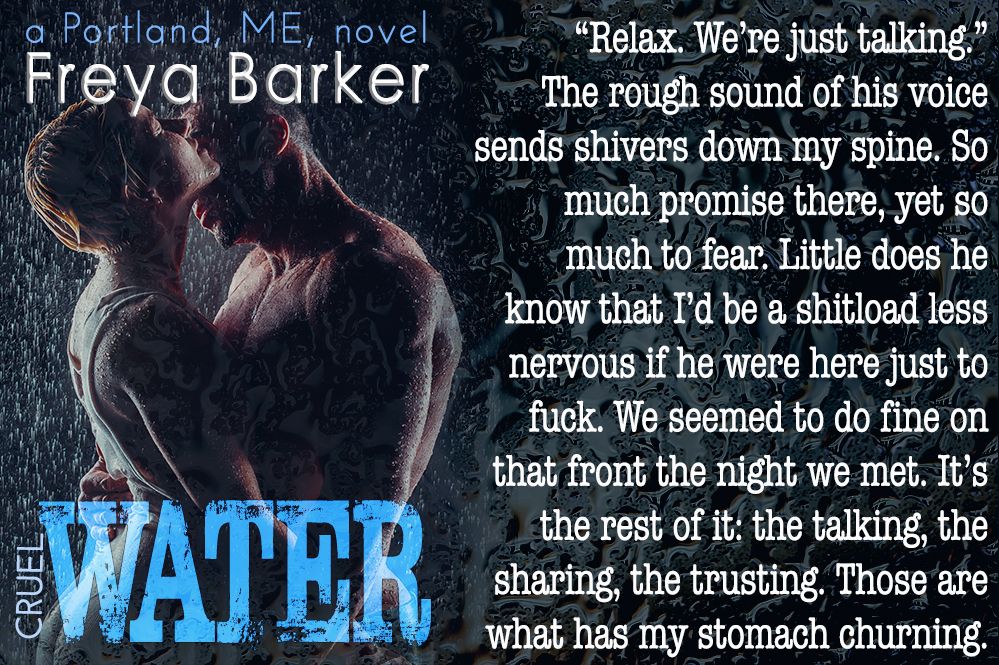 What Others Are saying

I have only one thing to say about this novel… Inspiring.

Freya Barker has written a story that is gritty, raw and real. A story about what happens when you have the worst thing imaginable happen to you, and the people who should be your support system, don't believe you. ~ Kez Korner

A five star sensational read. ~ Obsessed by Books

This is one explosive story, touching on subjects sure to tear you apart at times, but it is written with such skill that makes their story so amazing. ~ Lillians Book Blog

This is a breathtaking story of a damaged heroine supported by an strong man who is still recovering from his own emotional wounds. It takes you on journey towards happiness, forgiveness and above all a hope for a future lived free of a painful past. ~ Jezabell Girl and Friends


Freya Barker inspires with her stories about 'real' people, perhaps less than perfect, each struggling to find their own slice of happy.

A recipient of the RomCon "Reader's Choice" Award for best first book, "Slim To None," Freya has since published eight books. She continues to spin story after story with an endless supply of bruised and dented characters, vying for attention!
Other books by Freya Barker
Slim To None (#1)
Hundred To One (#2)
Against Me (#3)
Clean Lines (#4)
Upper Hand (#5)
Like Arrows (#6)